THCCPA Home
Welcome
We are the Tampa Home Child Care Providers Association. We were formed in 1990 to offer support and assistance to family child care providers. Sharing experiences with other providers promotes an atmosphere of pride and professionalism for the family child care field.
To attain our goals of promoting professionalism and providing quality care, we offer a variety of training and support at our meetings. We also encourage parents and child care advocates to become members and participate in the workshops that are presented because quality care is a partnership involving both parent and provider.
If you are a parent looking for care for your little one be sure to check out our Membership List With Openings page.
Upcoming Events
We meet the second Tuesday of the months, January through November. .
2019 Meeting and Events Calendar
Next meeting...October 8 at Publix (upstairs) 16560 N Nebraska Ave, 33549 @ 7pm. Child Care Licensing will be doing a training on upcoming changes.
For information about our association or to join us at a meeting/training please call Melanie McCune at 813-948-9375 or Lisa Fields at 813-353-0957.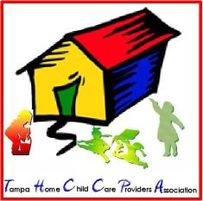 Not a member yet?
Click below for our membership application. You can fill it out online, print and sign and either mail it to THCCPA, 3130 W. Powhatan, Tampa, FL 33614 or bring it to a meeting along with a copy of your child care license and cash, check or money order to cover your yearly dues.
Current Board Members
President...Melanie McCune
Vice-President...Carol Phillips
Secretary...Joyce Pomnitz
Treasurer...Lisa Fields